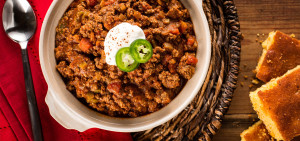 Thanks to TxBeef.org, this delicious Texas- Style Chili recipe has been floating around here and everyone loves it! We suggest you substitute ground beef or chili meat for the ground sirloin; it will be a little lighter on your budget, but not lighter on the taste.
Ingredients
2 pounds lean ground sirloin
1 Tbsp. vegetable oil
1 large onion, chopped
1 green bell pepper, chopped
1 jalapeño pepper, ribs and seeds removed, chopped
4 garlic cloves, minced
2 Tbsp. chili powder
1 Tbsp. paprika
1 Tbsp. ground cumin
1 tsp. dried oregano
1/2 tsp. freshly ground black pepper
1/2 tsp. Kosher salt
1 can (8-ounce) tomato sauce
1 can (10 ounce) diced tomatoes & green chilies, undrained
1 cup beer
1/2 cup (2 ounces) shredded reduced-fat sharp cheddar cheese
Suggested toppings:  Sour cream, sliced green onions, shredded cheddar cheese
Preparation
Heat a large Dutch oven over medium-high heat; add oil. Lower heat to medium, add onion, bell pepper and jalapeno pepper stirring occasionally until tender, approximately 4 to 7 minutes. Add garlic and cook for additional 1 minute.
Increase heat to medium-high and add ground beef; break it up with a wooden spoon and stir gently until browned, about 7 minutes.
Add chili powder, paprika, cumin, oregano, black pepper and salt; cook 1 minute.
Add tomato sauce, diced tomatoes & green chilies, and beer; bring to a boil.  Reduce heat to low, cover and cook 30 minutes. Add shredded cheese. Serve with your favorite toppings.