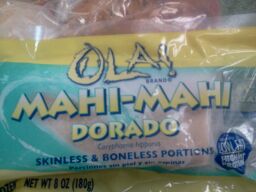 Sweet from the maple syrup and spicy from the Cajun seasoning, this mahi mahi recipe is quick and easy to prepare."
Ingredients:
1 tablespoon olive oil
2 tablespoons maple syrup
1 tablespoon Cajun seasoning
1/2 teaspoon garlic powder
2 (4 ounce) fillets mahi mahi fillets, rinsed
and patted dry
Directions:
1. Heat the olive oil in a pan over medium-high heat. 2. Stir the maple syrup, Cajun seasoning, and garlic powder together in a small bowl. 3. Brush the maple syrup mixture over the mahi mahi fillets. 4. Cook the mahi mahi in the hot oil until the fish flakes easily with a fork, 3 to 5 minutes per side..