Article by Cassie Smith, photo by Dave McDermand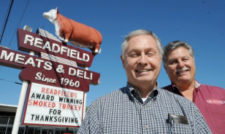 Brothers Richard (left) and Roland Ruffino stand in front of their landmark storefront on Texas Avenue in Bryan. The location opened four decades ago, and countless other businesses have come and gone during that time.
Richard Ruffino has seen his share of changes along Texas Avenue where his business — Readfield Meats and Deli — has been open for four decades.
Ruffino said many businesses that were there when he moved in, or came shortly after, have closed or moved, each for its own reason. But for him, the location has been ideal despite what might not be the most aesthetically pleasing part of Bryan.
"I think the city has done a good job — maybe some of the buildings may not look real good, but they're privately owned and the city can't really do much about that," said Ruffino, who co-owns the location with his brothers Larry and Roland.
At first glance, the idea of revitalizing parts of Texas Avenue might be overwhelming.
But Bryan city officials said it could be done.
There are challenges and obstacles to enhancing a state corridor that runs eight miles through the heart of the city and is lined with thriving commercial businesses, several major government buildings and vacated structures.
Though officials and business owners have different ideas on how to breathe new life into the corridor, they agree on at least one thing: It's going to take time.
Councilman Art Hughes said that for several years, that avenue has been a priority of the Planning and Zoning Commission, as well as the City Council.
"We've been searching far and wide for the right solutions, right opportunities, to make improvements along that corridor because it is very important," Hughes said.
Hughes, who previously served on the planning and zoning commission, said there may not be a way to make a big splash along the entire corridor, but by breaking it down by intersection or smaller pieces, it could gradually evolve over time.
"I think we've explored every short-term [plan] and found that doesn't really exist," he said.
More than the city Planning administrator Martin Zimmermann said Texas Avenue, also called Business 6, is one of the city's main corridors. It used to be the highway connecting Waco and Houston before the construction of Earl Rudder Freeway 30 years ago.
"That's why we have so many vacant or formally used gas stations," Zimmermann said. "There was just this big shift because all of a sudden this traffic moved over to the bypass."
Texas Avenue also is one of the main roadways responsible for carrying large amounts of traffic from the city's north end to its south end , he said.
TxDOT spokesman Bob Colwell said around 23,000 vehicles travel the road per weekday.
The city's capital improvements project includes 6-foot-wide sidewalks to be installed along parts of Texas Avenue in 2012, Zimmermann said.
"We know we need to do something," he said. "There's so many issues."
Zimmermann said he thinks the first step to dealing with the area would be to do a market analysis.
"You kind of need to figure out how many businesses, what type of business, could even locate there," he said. "Is really having a commercial strip like that feasible, or should it be a higher-density residential corridor?"
He said it would be a multi-faceted undertaking that could require several years and a combination of such things as tax abatements, incentive programs and partnerships to help revitalize the area.
"We realize, like we see in downtown, public-private partnerships are really important. Otherwise you don't really get the desired effect," he said.
The success of downtown's master plan is something the city can use as a model for future projects, like Texas Avenue, he said.
Deputy City Manager Joey Dunn said the street is on the Texas Department of Transportation's long-range plan for enhancements, but it's being prioritized with the rest of the corridors in the district.
"When it comes to actual improvements of the street and rebuilding Texas Avenue, we have to work with the state, and that's a whole different animal than downtown," he said.
Dunn said officials have attempted to facilitate development all the way down the road. However, Dunn said, he thinks the key is starting at major intersections.
While some of the aspects of the downtown plan can be attributed to Texas Avenue, there still is a large difference between a contained area and a 7-mile stretch.
"I think there are similarities in that you kind of have to start in phases, and that's what we've been doing for downtown," he said.
Dunn said people were able to create a type of synergy in downtown that helped it flourish.
"If you look at 10 years ago, people thought, 'How do you even tackle downtown Bryan?' We just keep plugging away," he said.
Hughes said he thinks the city needs to do the best it can at enforcing any code violations along the road. A move in the right direction would be to be proactive in trying to find private enterprise or developers to build along the street, he said.
"I really don't see, at least not at this time, that we're going to be, nor do I believe we should, spend a lot of money as far as buying up properties. I think there is a lot of room to enforce ordinances we have on the books," Hughes said.
He added, "I know nobody wants to buy a piece of land to put up a nice structure when right across the street is one that looks like it needs to be raised."
Hughes said there are properties that are more than 70-years-old along the corridor mixed with new development, and that creates a challenge in terms of aesthetics.
"I really think we have to start somewhere," he said.
Configuration and challenges
Extending about eight miles north to south through the heart of the city, Texas Avenue poses a challenge to property owners and developers. The issue arises due to the long-vacant, underutilized and dilapidated properties and a number of vacant commercial facilities. Zimmermann said the area faces other challenges including land use and zoning, appearance, public infrastructure and traffic access management.
In 2006, a subcommittee was formed to find ways to enhance the economic viability of the corridor. He said the subcommittee focused on the about 4 /2-mile segment of Texas Avenue between downtown and the southern city limits. The area was chosen because the 54-block area has potential for development and redevelopment due to its location, vacant building stock and underutilized properties.
One of the biggest challenges is finding the right mix of land uses for the many substandard properties, according to the subcommittee's report. Allowing for a larger variety of land uses could help break up what is now a 41/2-mile long strip reserved almost exclusively for retail and other commercial establishments. A more detailed land use feasibility study is needed to determine the best use for each property.
The subcommittee recommended several actions to address the issue including reevaluating zoning patterns, identifying areas appropriate for medium to high-density residential, larger-scale office and mixed use developments, allowing for more flexible development regulations and investigating strategies to encourage large-scale redevelopment.
Appearance of the corridor was rated second most important in the subcommittee's report.
Many properties have paving right up to the curb, unattractive pipe fences on property lines, parking lots with spaces that aren't striped, and no landscaping. The subcommittee said burying utility lines is either impossible or cost-prohibitive. The city could, however, pursue state and federal programs available to finance cosmetic improvements and develop incentive programs encouraging property owners to make changes, including the addition of decorative street lighting and the installation of grass, trees, sidewalks and raised medians.
Adapting to surroundings
Trevino-Smith Funeral Home Owner Agustin Trevino said he's been operating at 2610 S. Texas Avenue for 2 1/2 years after looking all over town for a place to open the family-owned funeral home. Price range and adequate parking were high on the list of priorities for building location, he said.
"I wanted to be able to keep the prices low enough that families can afford it," he said. "How can you get better than Texas Avenue?"
Trevino said the location's been excellent because so many cars travel the road every day and the neighbors are friendly.
He said it appears that neighboring locations are attempting to improve their appearance.
"It's been nice to look around and see everyone else brighten up the spaces," he said.
Trevino said he would like to make improvements to his location, including a possible expansion, but he doesn't have the resources. He said if the city were able to grant low-interest loans or facade grants like it does in downtown, it would help companies along Texas Avenue.
Ruffino's business at 2701 S. Texas Avenue has been at that location since 1968. He said he's tried to change and adapt to the customers' wants and needs over the years. Ruffino said it's been a great location because it's right in the middle of everything and not too far for College Station residents.
"There's just been a lot of change," he said..